Hands-On Log Building Courses 
Please contact Robert by email to get on the list to receive more information about any of my courses.
My most recent course:
Log Construction Skills Course at Backwoods Log Homes in Wisconsin . . . September 2022. Hosted by Aaron Hyman. Classroom and plenty of hands-on work.

Our Team: Michael James, Zach, Vladimir, Chris, Robert, Jakub, Aiden, Michael (Aaron Hyman took this photo)

Germany in September 2019, before an ILBA conference. This course was open only to experienced log builders. Three day of hands-on truss construction.Two other teams built other parts of the gazebo (below). A very interesting design—the back wall is much narrower than the front wall (under the truss), so we made the ridge slope down, to keep the roof pitch of rafters the same .

The truss team, L to R: Kristoph, Peter, Andriy, Tommi, Robert, Fabrizio, Roger, and Alexy. Missing: Martin

Hands-on Log Roof Truss, September 24 and 25, 2018

An improved mitered-style roof truss of logs using Robert's newest simple and effective layout method.


Wanaka, New Zealand :
Wanaka, New Zealand (South Island) -- February 19 to March 16, 2018
Four weeks of hands-on instruction -- 

This was mid-summer in Wanaka, a mountain town on a beautiful lake in the Southern Alps.

Students came from: New Zealand, USA, Singapore, Australia, and Romania

Please contact Robert by email to get on the list to receive more information about any course. 

The logs for our Wanaka Course: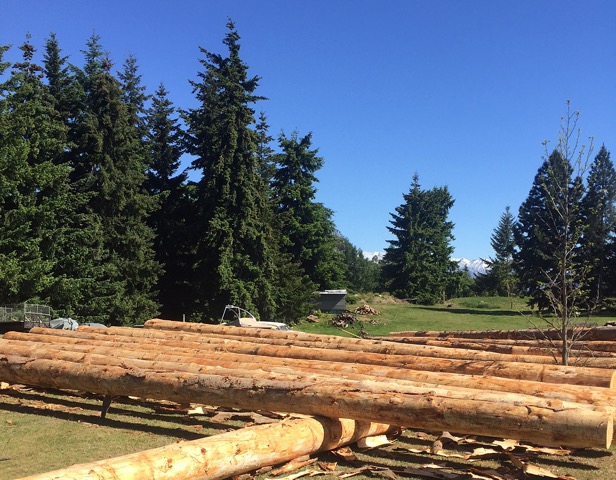 Course in Fairbanks, Alaska -- August 28 to September 22, 2017
Four weeks of hands-on instruction -- 

This course sold-out. Students from: France, Poland, Sweden, England, New Mexico, Oregon, Alaska, Michigan, and Lithuania.

Offered by The Folk School of Fairbanks, and hosted by Valerie Barber. With Scott Swingle of Jack Frost Log Homes.

  

Left to right: Dmitri, Daniel, Kelly, Yohann, Piotr, Robert Chambers (standing), Matt, John, Scott Swingle, Andrius, Earl (standing), and Keith
   Alaska white spruce. Laying out roof pitch on plate logs.

3 weeks of log building progress.

"Up With Logs!"
Leeville, Australia -- March 21 to April 15th, 2016
Four weeks of hands-on instruction --
This course sold out.
Leeville, New South Wales, is about 1 hour from the "Gold Coast" of Australia—Byron Bay, Surfer's Paradise . . . . .
We worked on two log cabin shells -- they will be farmstay cabins for Greg & Sheila. Both of them are 22-feet x 26-feet (7m x 8m), designed by Kevin Simoes (Streamline Design).
One cabin was built with forest red gum and the other with spotted gum -- the first time I had used eucalyptus. Both types of wood machined beautifully (and were very heavy).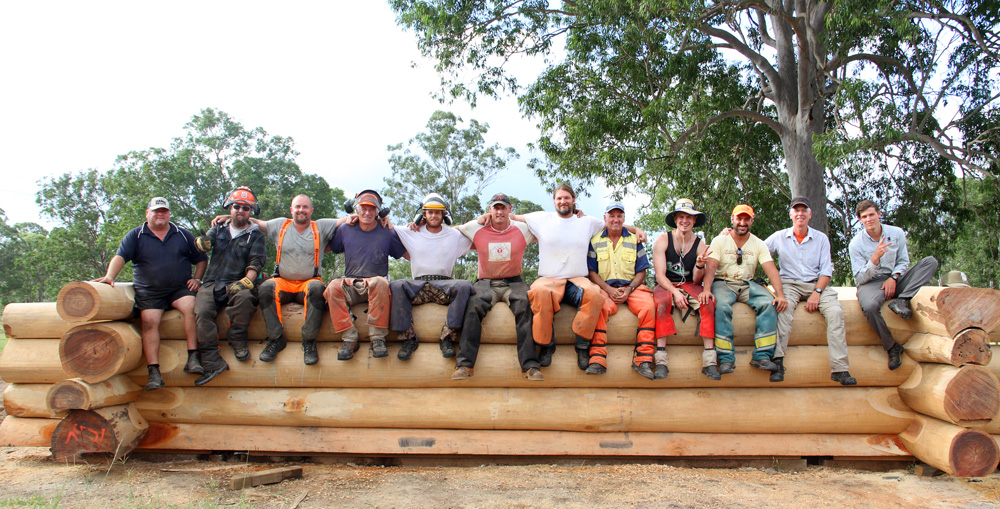 Leeville Course (left to right): Greg, Matt, Peter, Roger, Kevin, Nick, James, Ray, Tristan, Theo, Robert and Joey (missing from photo: Mario). This is the start of the shell that we made using spotted gum.
5 came from Australia, 4 from the USA, and 1 each from Canada, Brazil, & Belgium.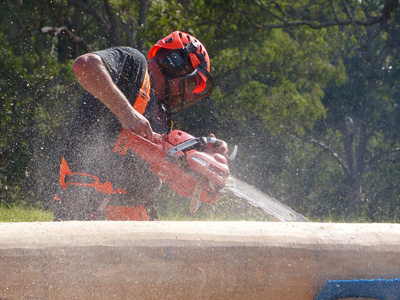 Peter cuts a long groove.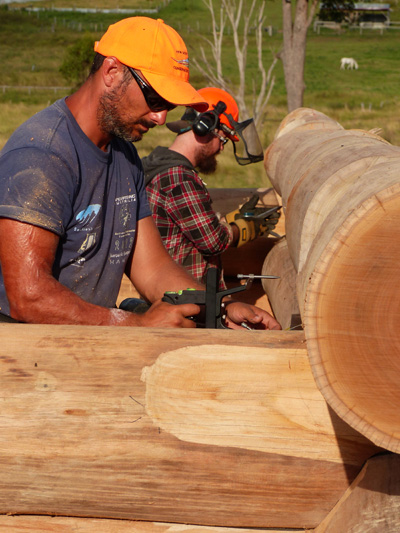 Theo and Matt scribing.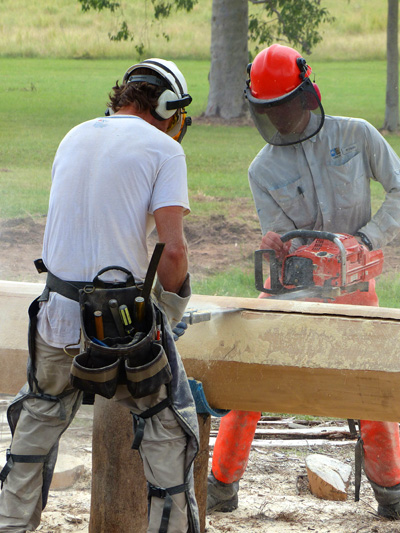 Kevin and Joey ripping a ridge log.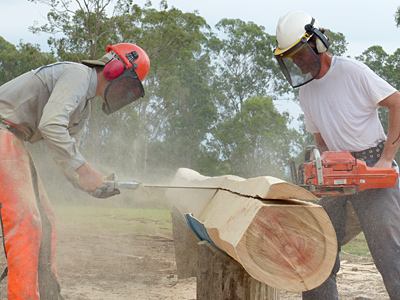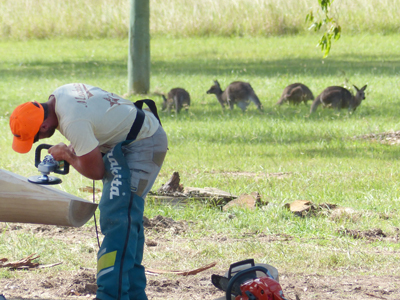 Kangaroos watch as Theo works on a roof truss made of logs.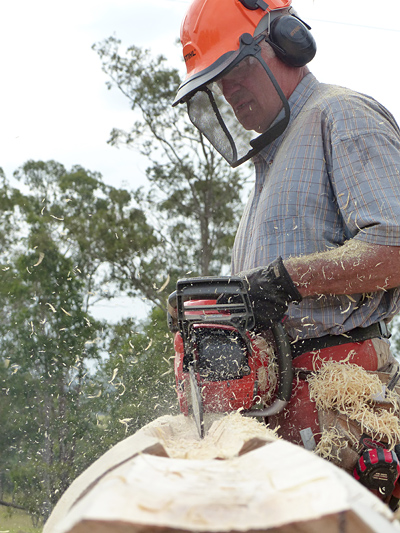 Roger brushing a groove.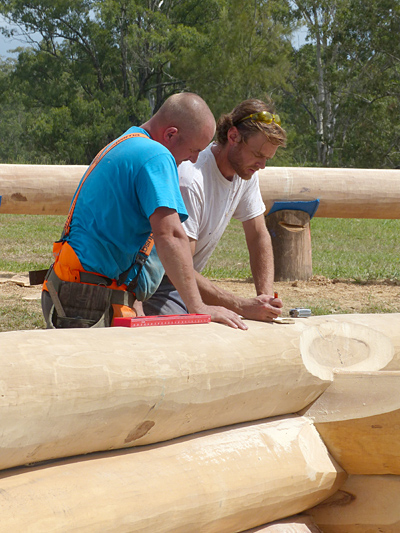 Peter and Kevin working on a "selection map."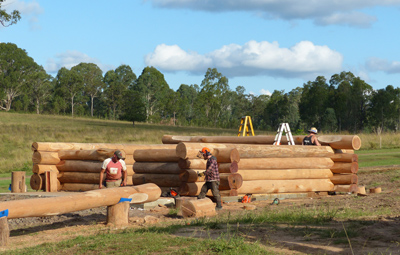 Our red gum shell about half done.
---
---
---
Previous Courses :
WANAKA, New Zealand -- -- February 2 - 27, 2015
Four weeks of instruction.
This course turned out great, and it was filled -- we had the maximum 12 students.
A large log house shell this time (11m x 11m = 35' x 35') with a 45° angle living room addition. We completed the four log walls all the way up to top plate level. We also laid out and cut: all 3 ridge logs (including a massive 14m ridge), and both of the 2 purlins. And we cut all of the door and window headers. GREAT WORK, team!
Here's a few snapshots.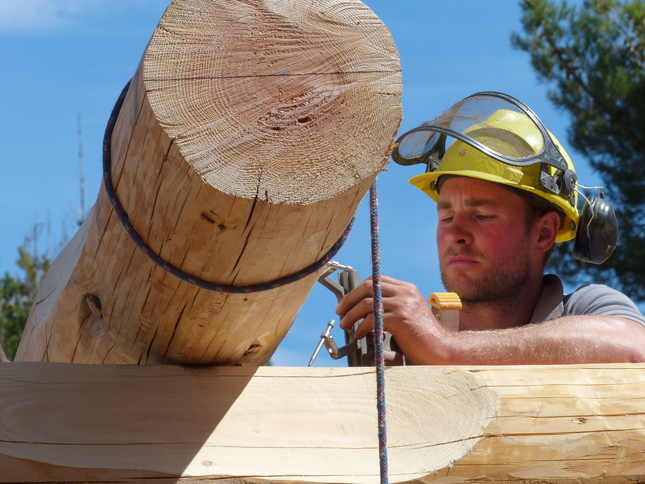 Daniel scribing one of the last notches of the course.
Our "team." On log: Dave, Ash, James, Matteo, Graham, Greg, Roger, Daniel, Ray, and Sean. Kneeling in front: Stew and William.
3 from Australia. 3 from USA. 5 from New Zealand, 1 from Switzerland.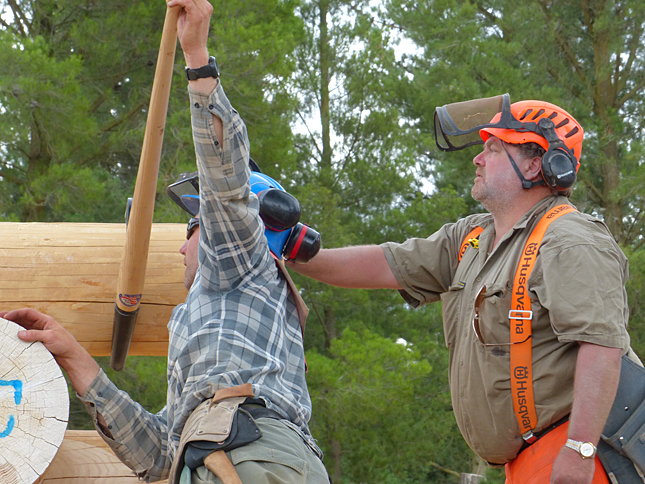 Ash and Greg rotating to get the straightest surface of the log on top.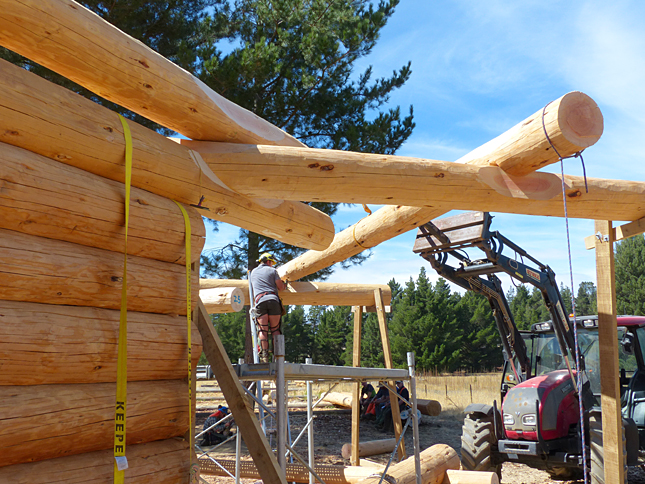 The Great Room has a large 45 degree addition, with log headers. Look at the great fits of the 45° notches.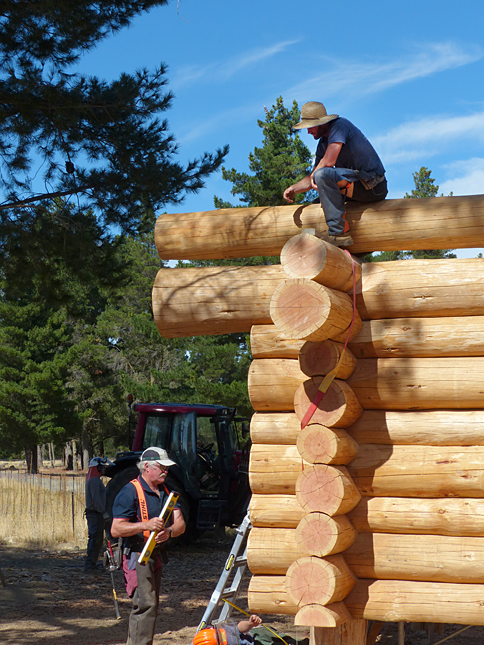 Stew and Dave working out the plate log height.
We built all of the walls for the class project, and also made the 3 ridge logs, 2 purlins, and 6 of the log posts.
This was our course project in Wanaka, designed by Kevin Simoes of Streamline Design in British Columbia, Canada: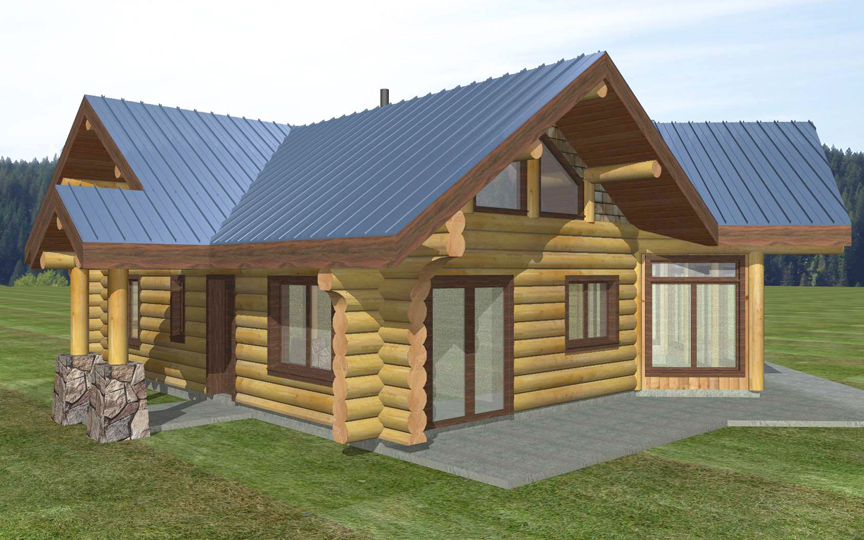 ---
Nenana, Alaska (near Fairbanks) May 5 to 23, 2014. Organized by the University of Alaska, Fairbanks, in cooperation with the Toghotthele Corporation.
Three-weeks of hands-on instruction. We built a small log cabin shell—photos below. It's a great course every year. My assistant instructor was Richard Musick of Fairbanks.
This year we had students from: Poland, Ukraine, Holland, Bosnia, Chile, New Mexico, Prince of Wales Island, Minto, and Nenana.
Our 2014 group below. Back row: Larry, John, Andriy, Keith, Marten, Robert Chambers, Richard Musick, Jorge, Jan, Robert D., Milo. Front row: Josh, Martin, Val Barber, Petar, and Zbyszek.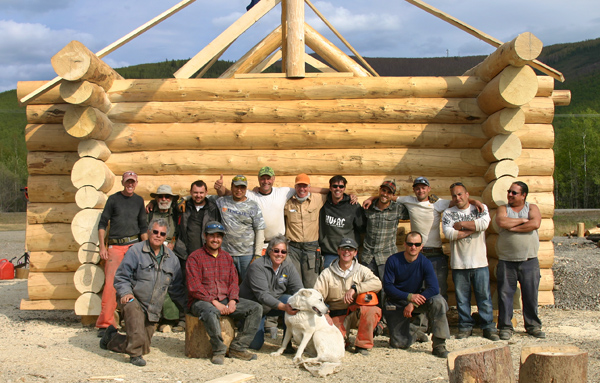 .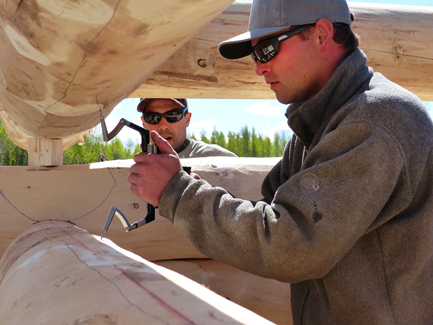 Jorge & Jan from Chile, scribing a long groove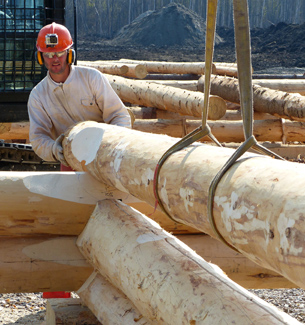 Petar from Bosnia placing a log
Keith brushing a door header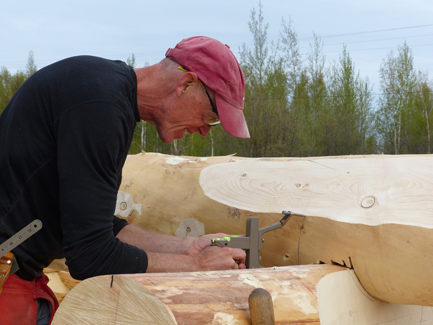 Larry from New Mexico scribing a notch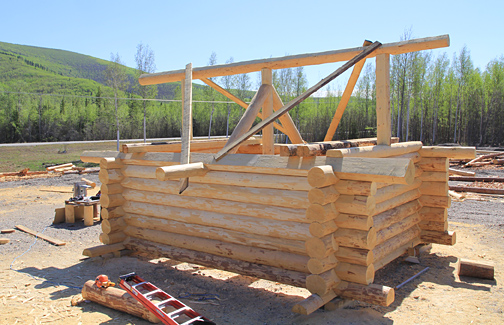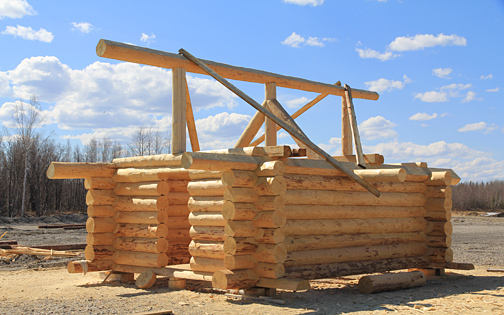 Above: Log cabin shell built by students during my 2013 Nenana, University of Alaska Course
Video from Cold Climate Housing Research, Fairbanks. Alaska Course 2013.
________________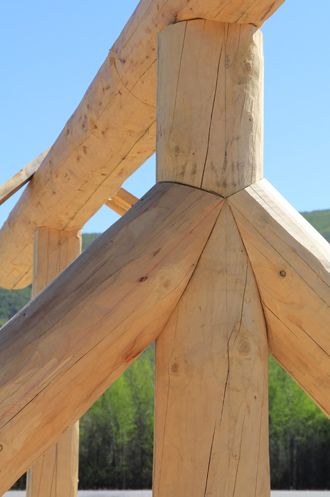 ---
Wanaka New Zealand 2015
My students built this log cabin shell in 26 days of instruction.
Palmer, Alaska—3 week course using balsam poplar logs. My first time using this tree species-- in Alaska they call it "cottonwood."
2011 Class Picture -- Palmer, Alaska with particpants from Switzerland, Colorado, Japan, and Alaska.
Students in my course built the log walls & beams for this cabin.

And here is the finished Bed & Breakfast.

Looks great, and all the logwork was done by students.

Students in the 2008 Aoraki Polytech Course Level 3

Students in the 2008 Aoraki Polytech Course Level 4

1999 Course in New Zealabd

.

1997 Australia
Pinetop, Arizona
1991 North Island New Zealand
New Zealand "Pudding Hill"
Pingree Park Colorado 1997
1989 New Zealand
---
---
If you have a question about what you'll learn in any of my courses? Please email Robert Chambers
---
---
Students talk about Robert Chambers's workshops:
"My thanks and appreciation for the great education at your workshop. For me it truly was a milestone: one of those life-altering types of experiences. The workshop was all I could have hoped it to be: the quality and authority of instructors is tops, and lots of hands-on experience. " John C.
"Very informative - - I now feel I am up to speed with the log home industry!" Tom B., professional log builder
"I have learned from the best. A great experience." Dave O.
"It was so fun, so interesting, and so exciting that the time flew by!" Olaf Edgar
"Robert Chambers is the best teacher I have ever met." Chuck Kelly, professional log builder
"I now have an excellent understanding of what goes into building a high quality handcrafted log home." Erik L.
"Robert is fantastic. He knows log building AND he can teach." Dave H.
"Absolute LEGEND, Robert, I really appreciate all your teaching." Dave H-L.
"I showed everyone in my family's log home business the mitered truss and they all loved it. Then we built three trusses in three dfferent ways, and the mitered one was fastest and easiest. . . I enjoyed the class tremendously and we will be building better buildings because of it." Richard Musick, professional log builder
"I count this among the best things I have done so far in my life." Neal M.
"Robert is the "Maestro" of log building!" Greg G.
"Thank you again for a great course! It was an unforgettable experience, and I learned so much." William L.
"I have come away having learnt a huge amount about log building and I feel inspired and confident to tackle a log project." Ash M.
"I count this among the best things I have done so far in my life." Neal
"There is not enough room on the evaluation form to tell you how impressed I am!" Vince V.
"It is obvious that Robert loves to teach and so it is a joy to learn from him. I honestly feel that he is one of, if not the best, teacher I have ever had the privilege of learning from." Bradley Bartels, professional builder
"Robert is a gem of a teacher." Josh Weiser
---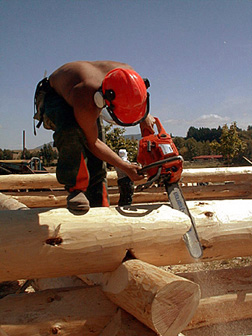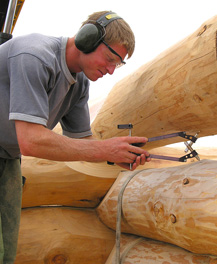 Photos from workshops and around the yard: John cuts a saddle -- note that John's left hand is on the chainsaw trigger, not his right hand -- one of the "tips of the trade" you will learn. On the right, Joe Hambrook scribes a log—this guy's got steady hands!
---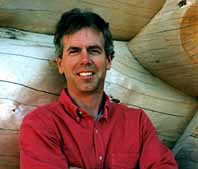 © Robert W. Chambers, 2011, 2012, 2013, 2014, 2014, 2016, 2017, 2018--- photos and text


This page was updated July 2018